Content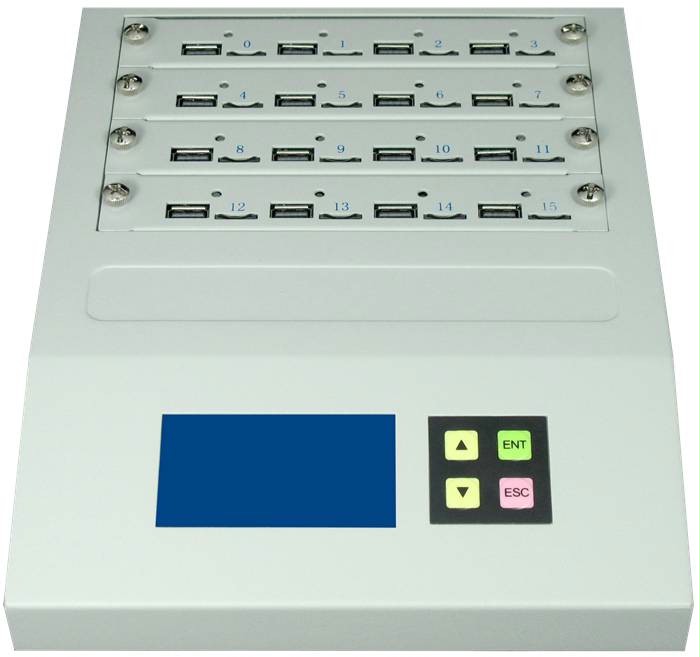 Complete Standalone Operation:

No PC required to operate the duplicator.

Asynchronous Duplication:

Able to copy any size master data onto multiple sources asynchronously (independently) without sacrificing duplication speed or quality for faster and more reliable duplication.

Smart copy feature:

This feature is used to quickly copy all accessible content contained on the SD card.

Supports all data Formats with bit by bit duplication

Supports most currently available microSD and USB drive:

Supports all currently available microSD & USB drive in the market

Future functions upgradeable through firmware:

Duplicator is able to be upgraded by future firmware updates.

Secure Erase:

Fully erase the Flash device without the data being recovered.

Multi-Language capability:

The text on the LCD screen can be displayed in English

and

Chinese .
Function
Model: M316UT
Operating Type: Stand-alone
Target: 15
Buffer Memory: 128MB
Asynchronous Duplication: Yes
Smart Copy: Yes
Auto Counter: Yes
File System Supported: FAT32, FAT64, NTFS, ext2/3/4
Max SD/microSD Size Supported: 2TB
Language Support: English, Chinese
Display: 128 x 64 Blue LCD
Status LED: Green/Red LED on each port
Color: Silver
Maximum Read Speed up to: 10 MB/Sec≈600MB/Min
Maximum Write Speed up to: 8 MB/Sec≈500MB/Min
Flash Device Supported: All microSD, microSDHC Card, USB flash device
Firmware Upgradeable: Yes
Power Supply Input : 110V-220V AC ( DC 5V adapter)
Operating Humidity: 20% ~ 80%
Temperature Extremes: 40°C (104°F) / 5°C (41°F)